Most SEO techniques focus on optimising for a handful of search engines alone. After all, the basis of SEO is 'search engines', right? But SEO in 2019 and beyond requires us to rethink our very concept of search engines in order to rank for them. Google might be the undisputed king in this realm, but YouTube closely follows as the second largest search engine in the world. To grow your organic traffic, marketers cannot afford to ignore YouTube SEO.
But why is this platform so important?

Growth of YouTube in India
At the YouTube Brandcast 2018event, incredible statistics emerged about just how quickly YouTube is picking up in India. There are currently around 225 million active Indian users on YouTube, with this number expected to increase to 500 million by 2020. Interestingly, this platform's popularity spans across age groups, languages and regions. 60 percent of videos are watched by audiences outside the top 6 cities in India. Brands are also increasingly switching to YouTube ads from traditional media. These numbers prove that a strong SEO strategy today also includes a comprehensive YouTube plan.
So how do you get started on raking in thousands of video views and ranking higher for your videos through YouTube SEO?
Here are eight helpful YouTube SEO tips that you can start implementing immediately!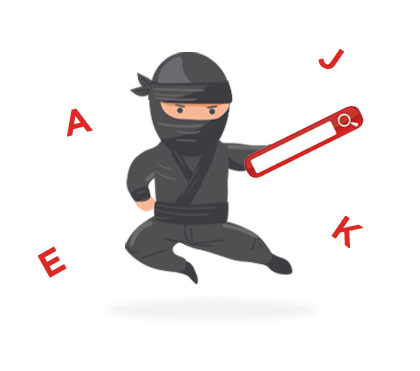 Be a Keyword research ninja 
You can't rank your videos without choosing the right keywords! Learn the art of generating the right keywords for your videos.
SEO for Google and YouTube have a fair number of techniques in common. The first step, the foundation of all SEO practices, is keyword research. Just like for Google, when you are selecting the right keywords to use, you need to check for search volume.
There are a few methods to find this value without using any complicated tools.
Do a YouTube search for your topic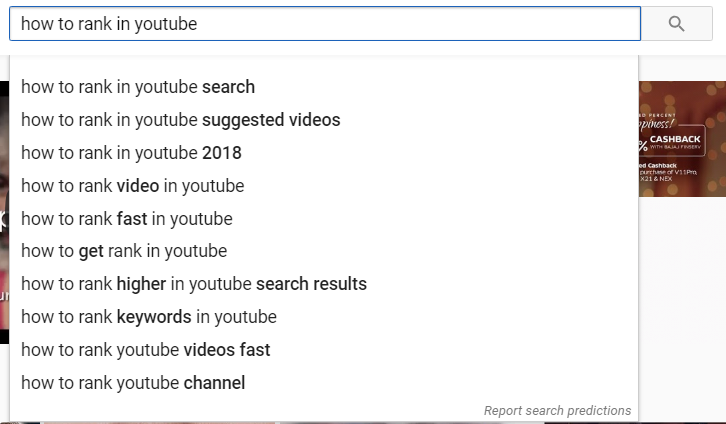 The search bar is arguably the best YouTube SEO tool when you are conducting your keyword research. All you need to do is enter the key phrase of your topic into the search bar and wait for YouTube to throw up recommendations based on it.
Each of the suggestions that YouTube gives you is a keyword. These are phrases that other users are actively looking for. You can safely bank on these terms as popular keywords you can use for your video.
Do competitor research
Is there another video in your genre around a similar topic that has been able to garner thousands of views? You can do a quick research on the keywords that they are using to understand what got them so far. This is one of the best YouTube SEO tips as it can help you create a strategy of your own.
To scope out the keywords your competitors are using, there are three places you need to look in:
Title
Video description
Tags
Look for certain terms that keep repeating in these three places. Those terms will be the keywords you need to optimise your video for.
Install vidIQ: the best YouTube SEO tool
If you are looking for a powerful YouTube SEO tool that can do all of this for you,vidIQ is the answer. This tool is available as an extension and can give you complete insights into YouTube SEO stats at a glance. It helps you find out what tags and keywords your competitors are targeting, so you can optimise your videos for them too.